No shit there we were…. again.  Waiting for Good Sam
to call back to say they'd found someone to tow us.  We are now familiar with their process.  We will also be life long members if they'll have us.  I kinda thought when we called today they might say, "You've used your one get out of jail free card.  Good luck to you. You're on your own."
This morning we woke up in a nice little dry camping spot in Moab, UT.  Last night we focused on showers…. half of our party hadn't had one in over 10 days, they other half was over 7 days.  That makes for a ripe crew – not something even wet wipes can come close to fixing.  We used the heck of the facilities.  We also filled the tanks – water and fuel – in preparation for 3 or 4 days of boondocking outside of Arches National Park.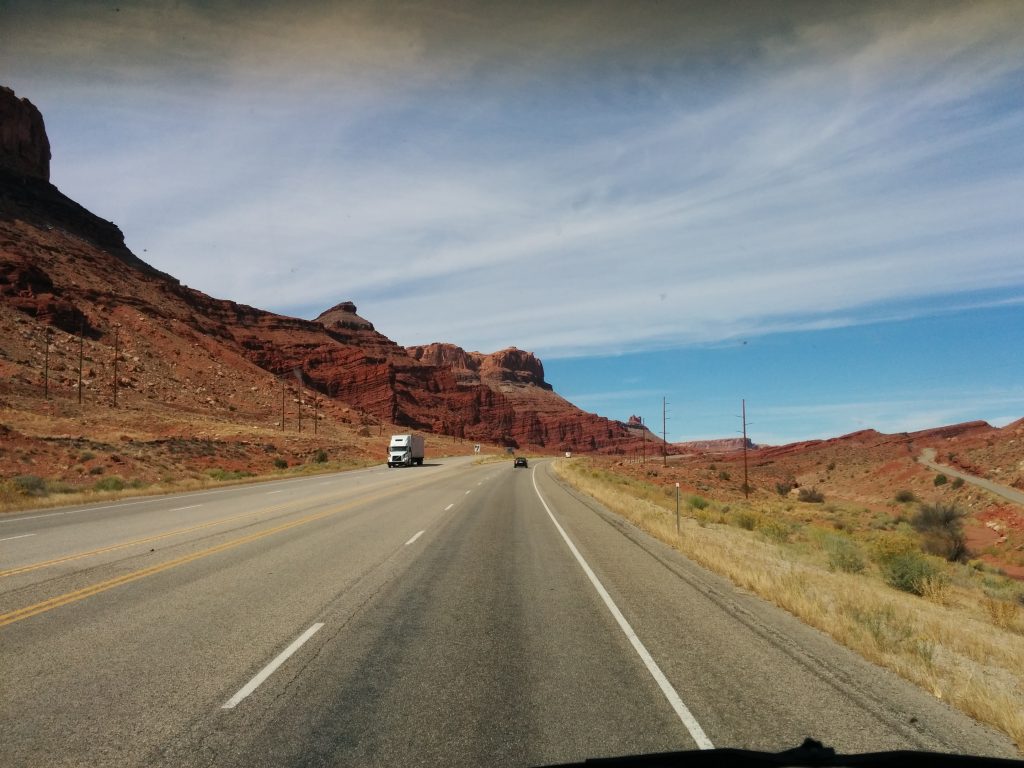 I had done my online research and found a ton of free spots on BLM land.  Since we've spent a lot more than planned in Salt Lake City and Sturgis, free camping in beautiful land where it's hot/warm and within 10 miles of a decent little down was exactly what the doctor ordered.  I found a few suggestions on a nice gravel road overlooking a red rocks canyon just outside the park.  Spots were marked and some even had fire pits.  So we hauled off this morning singing 60s tunes, ready for a fun day.  We even stopped to buy a new kid carrying backpack so we can finally do some of the hiking we've been talking so much about.
We entered Mill Creek Canyon Road off of 191 (if you want to GoogleEarth it and laugh at the fact that we didn't do that) and everything was great.  At about .6 miles we took a left and continued on less than a quarter of a mile.  After we got to the parking lot for the dinosaur tracks (legit – there are pictures below – dinosaurs have never felt so real as when you see their tracks), we turned right… about .2 miles to go to the site.  We passed several marked sites along the way but decided to keep going.  The road was great – level, solid gravel – until we came around a corner and hit the Sand Pit of Doom (SPD).



We were already into it before we realized what was happening so there was nothing to do but put the pedal to the metal and clench our buttocks.  The Chief slowed but kept moving… slower slower slower until we hit the other side and hard gravel again.  We were good to go.  Scott laughed, "That was a close one."  Me (relieved), "Yup, I know.  Wow."  We continued on another 50 ft up around another bend and Scott came to an immediate stop.  There was a significant steep little asshole of a hill straight into another sand pit.   Scott, "If we go down that, we aren't coming back out of it."  Me, "Ok.  Well… back up through the sand pit then?"  Classic rock and a hard place.
A few pieces of gear I (Scott) wish we had with us:
3. Sand Channels (Traction Jack)
We took the car off and the dolly as well.  I got the car stuck trying to get through the SPD.  We got it out relatively easily but it might not have a clutch left in it.  TBD on that.  Scott attempted a reverse SPD traverse in the Chief – the old college try, if you will – but it was a non-starter.  We buried her.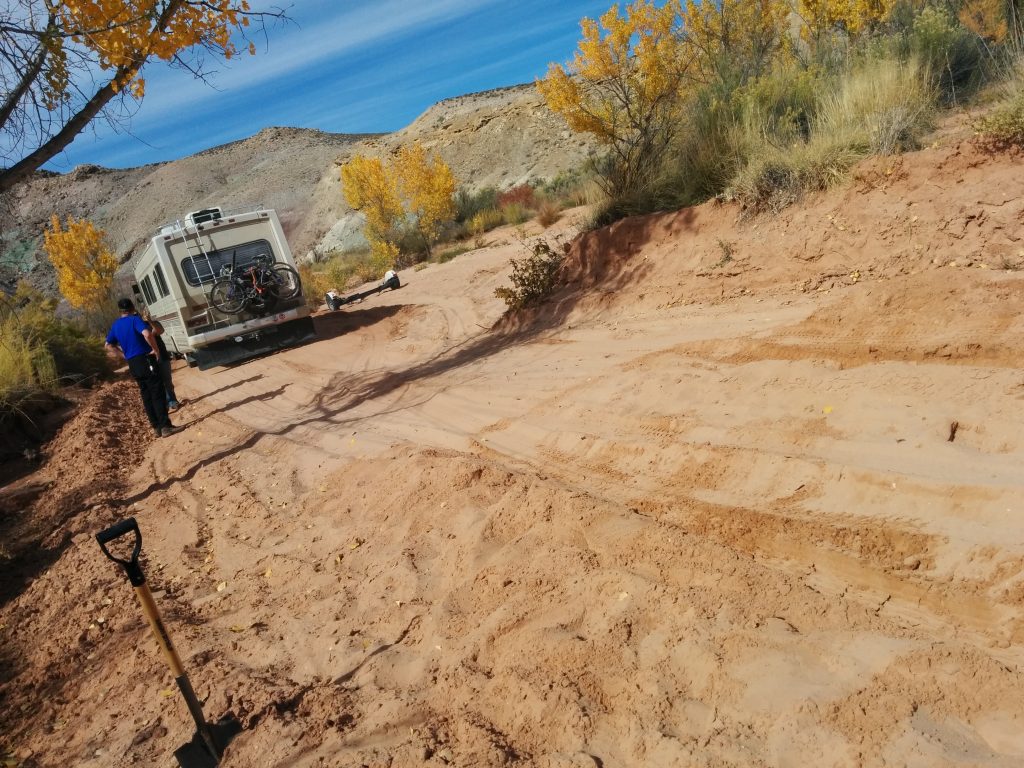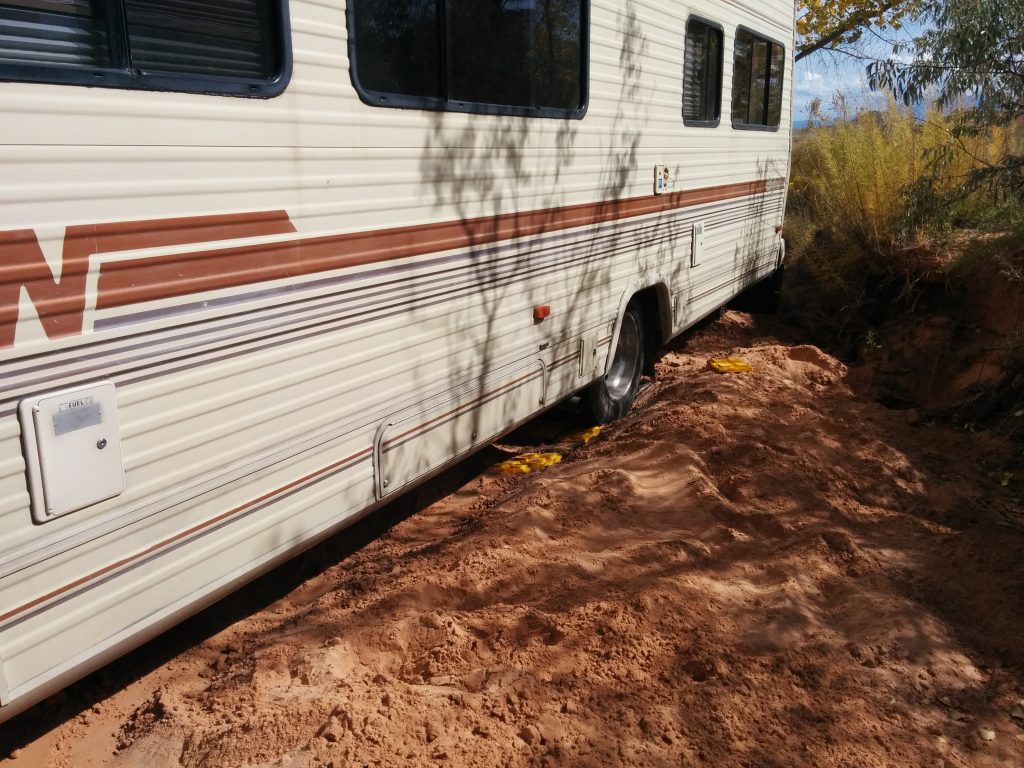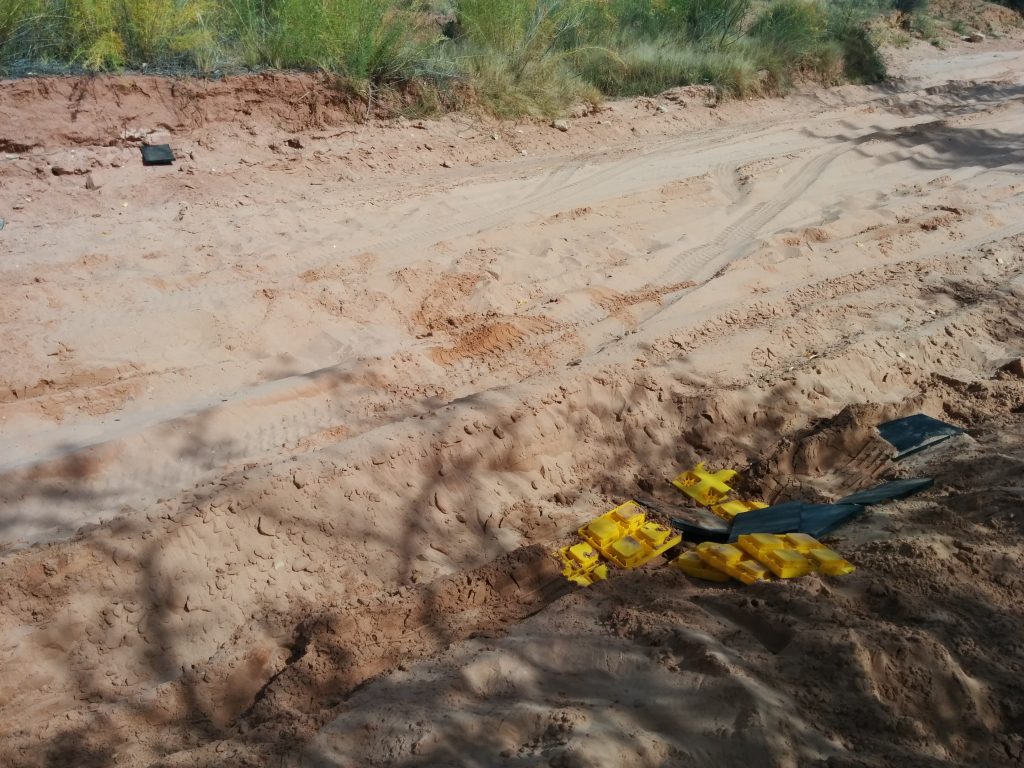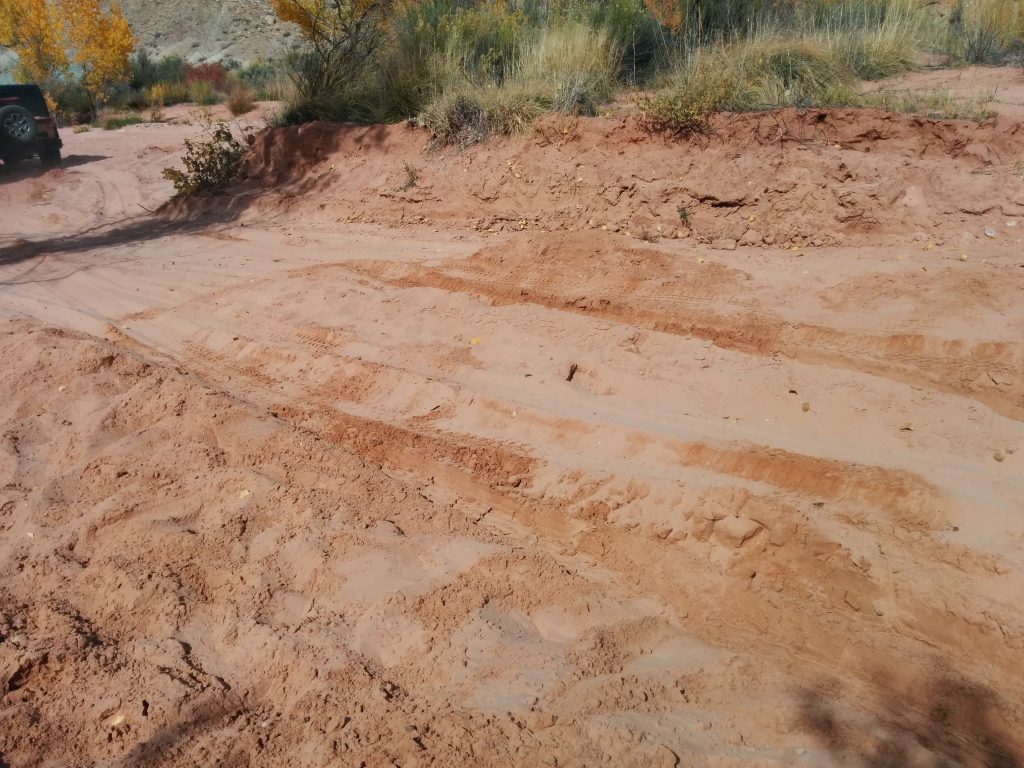 That's when the white truck pulled up.  He couldn't get around us so he waited a few beats then got out to assess and help.  It turns out "Mr White Truck" is named Rob and Rob is awesome.  He's a genuine soul and he spent the better part of the day with us.  He later told Scott, "I saw you guys… you with your family… and even when I could have gone on I couldn't leave you, man." Rob – you're awesome.
Feeling the pressure to get ourselves out of the way for Rob to carry on (before we knew he'd be seeing us through to the bitter end) we worked like dogs to get the Chief unstuck.  I'm telling you I bent over and dug red sand with everything I had for 45 minutes (maybe an hour).  Forget that shower I had less than 12 hours ago… I'm 100% covered in dirt again. 
We finally go the Chief unstuck, drove it forward (not the direction of home and safety) onto the harder gravel road again and let the back up of Jeeps pass by (*jealous*).  That's when we decided to put the kids in the car, drove to the closest RV park and called Good Sam.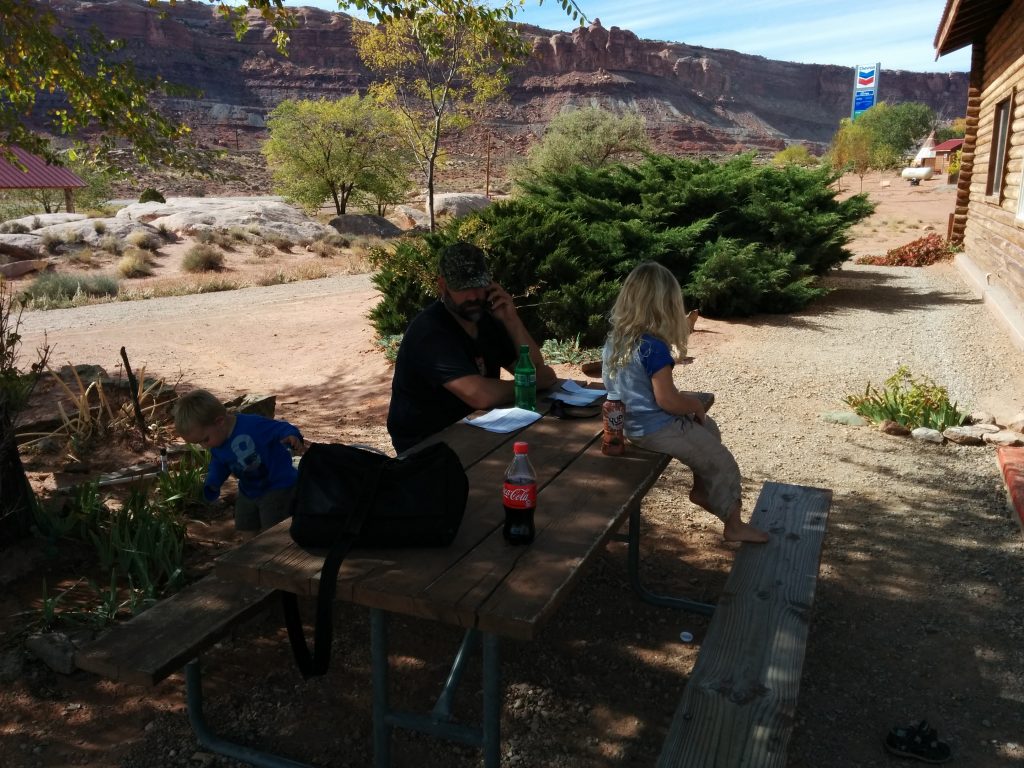 Good Sam has it's champions and it's detractors.  In one of the forums we're in there are hundreds of horror stories about how they refused to provide help for some clause or another.  We are decidedly in the first camp – huge fans.  At this point… we're a solid 2 months in… they've saved us over $1000.  If they'll have us (also TBD) we're likely to be lifelong members.
We drove back to the dinosaur tracks parking lot and waited.  Mater pulled up ready for action.  Scott hoped in with the tow truck driver and literally less than 30 minutes later the Chief was rounding the corner.  Another 10 minutes after that the tow truck came up towing the dolly.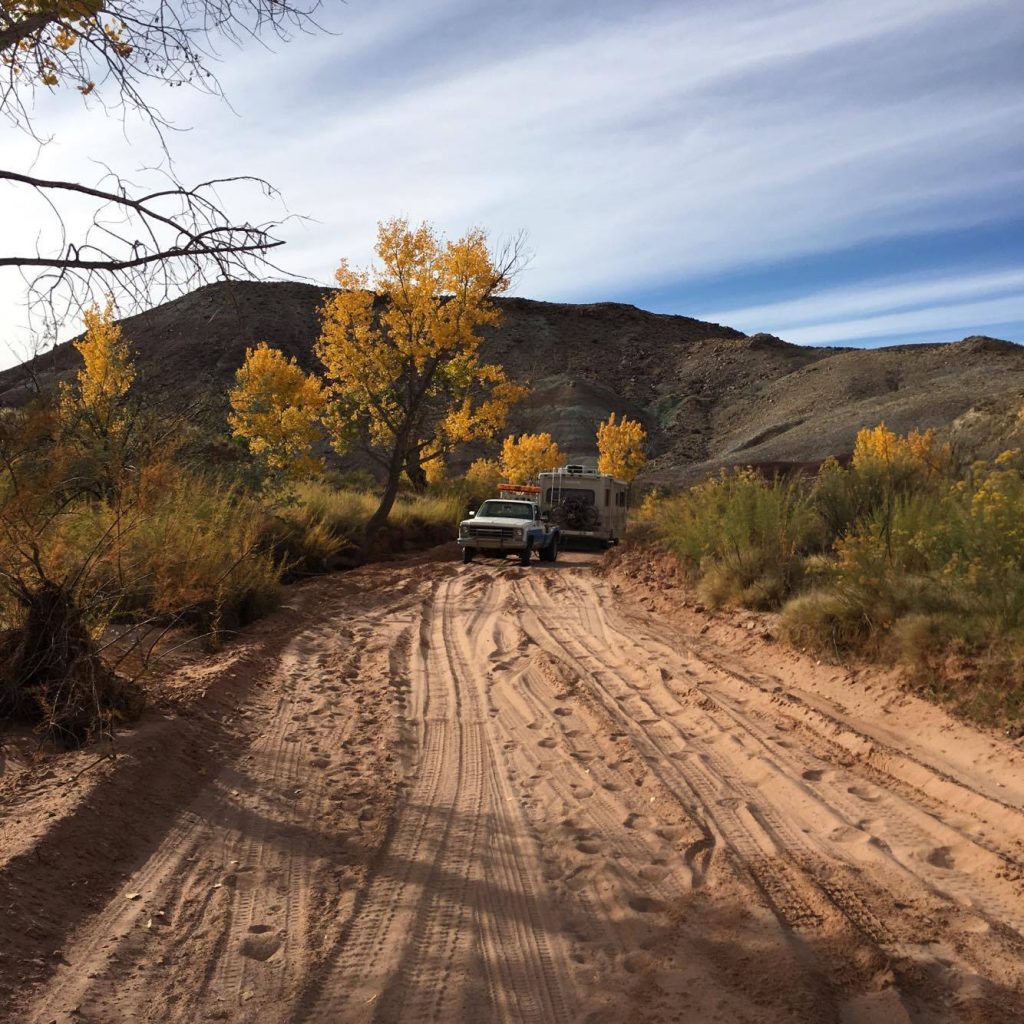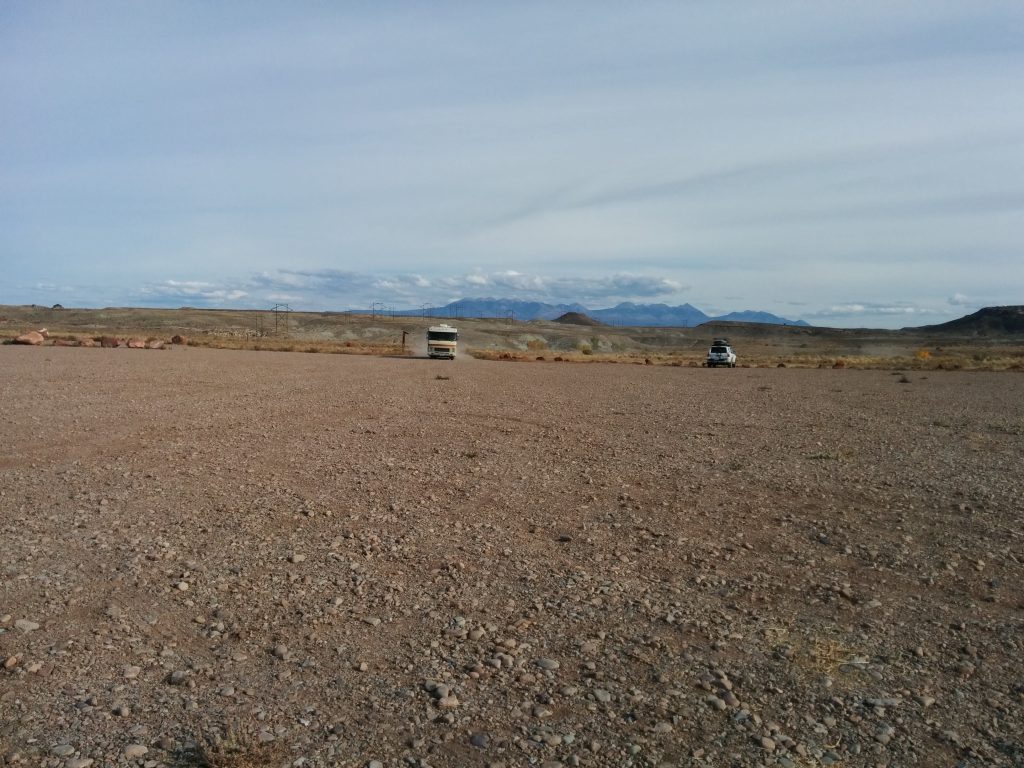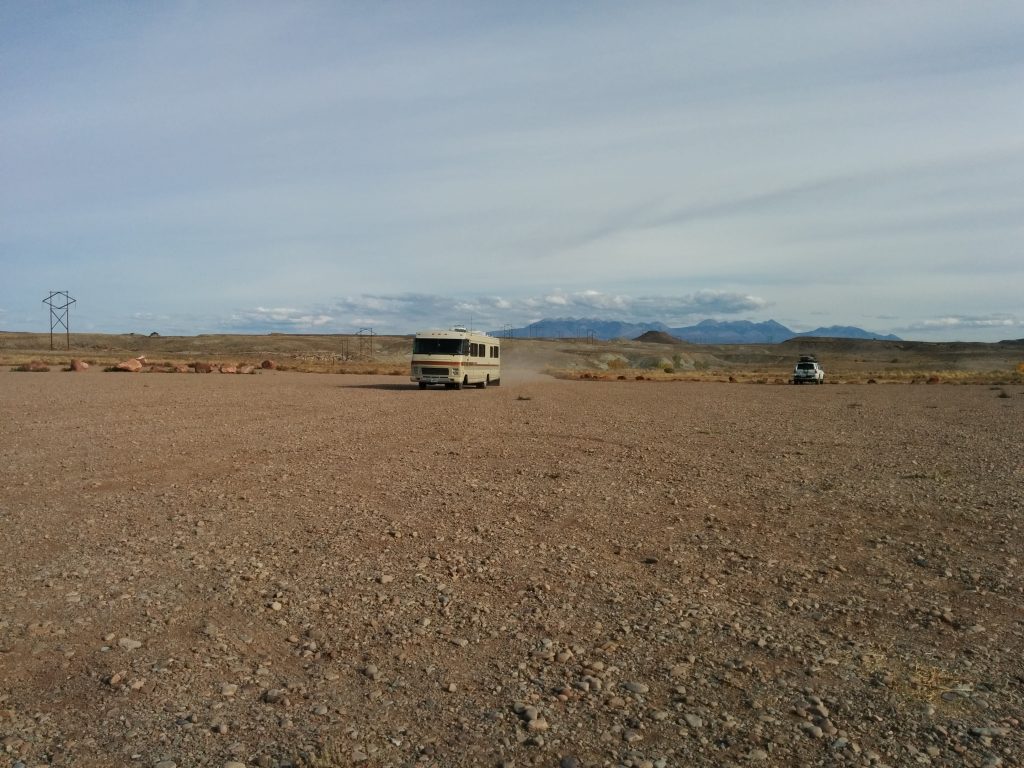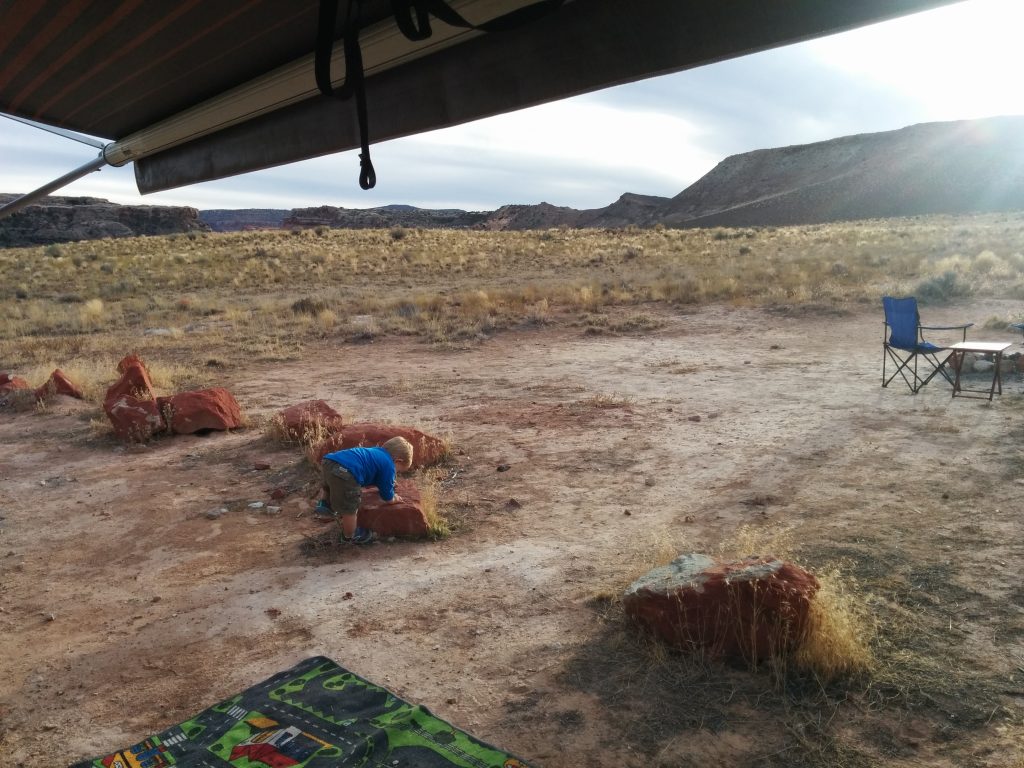 So, what have we learned here today?!  While Moab is ground zero for all cool Jeep 4×4'ing, we tried it with the Chief and it's not meant to be.  Also, we need a 4×4 tow vehicle.  When it comes time to upgrade, that will be priority 1.  I want a Jeep. I don't care what it looks like – I want it run like a bat outta hell and eat sand for lunch.  Finally, we're boondocking in a convenient level gravel (still free) spot – this is where our adventure skill is currently maxed out.  Maybe we'll get an Earthroamer someday but the price tag is just not even close to within reach.
Ultimately, we were well prepared to deal with a challenge in the desert.   We've remained hydrated, happy and laughing through most of this (except when Scott got all weird because he thought we were holding people up so we had to shovel red sand like our lives were on the line).  We made a new friend, Rob who is a geologist and I'm fairly certain Evie (who is a rock affectionado) will have some intense questions for him over the next year.  It was a day we won't forget any time soon – but also one that I don't care to repeat ever.
Dinosaur tracks: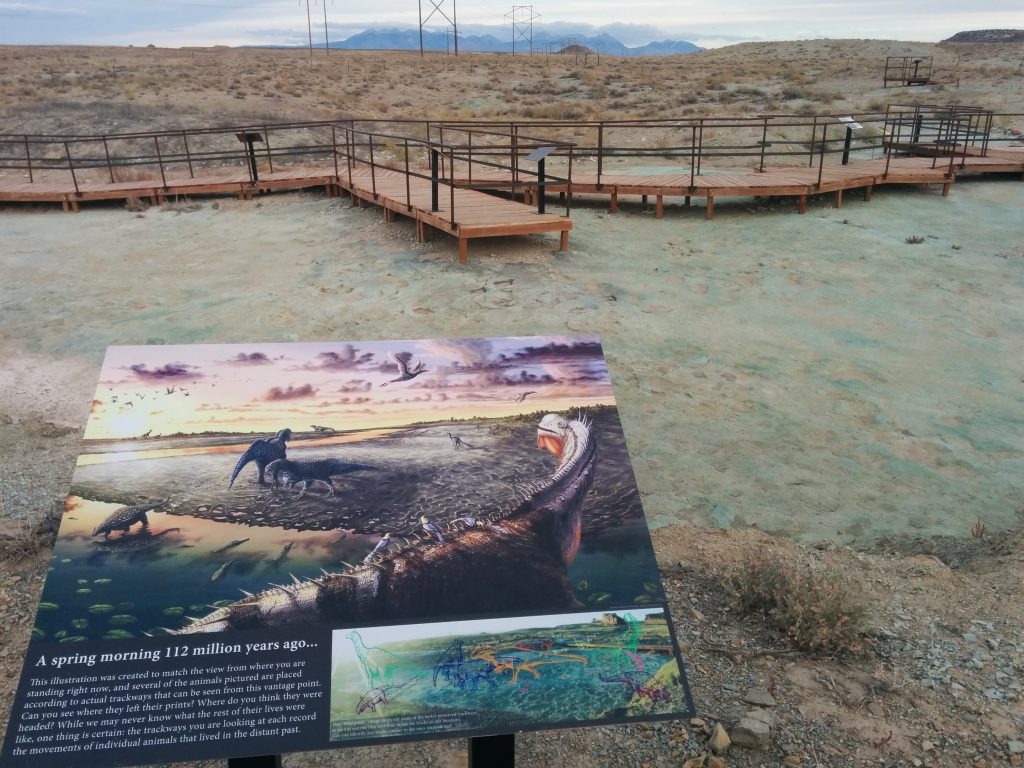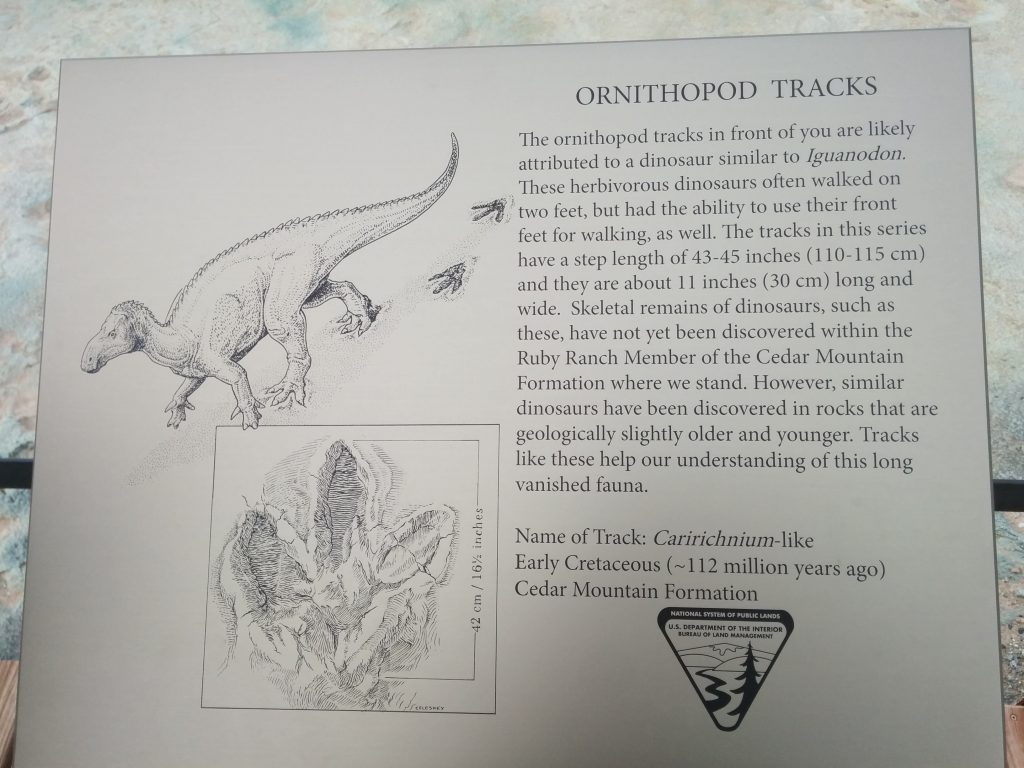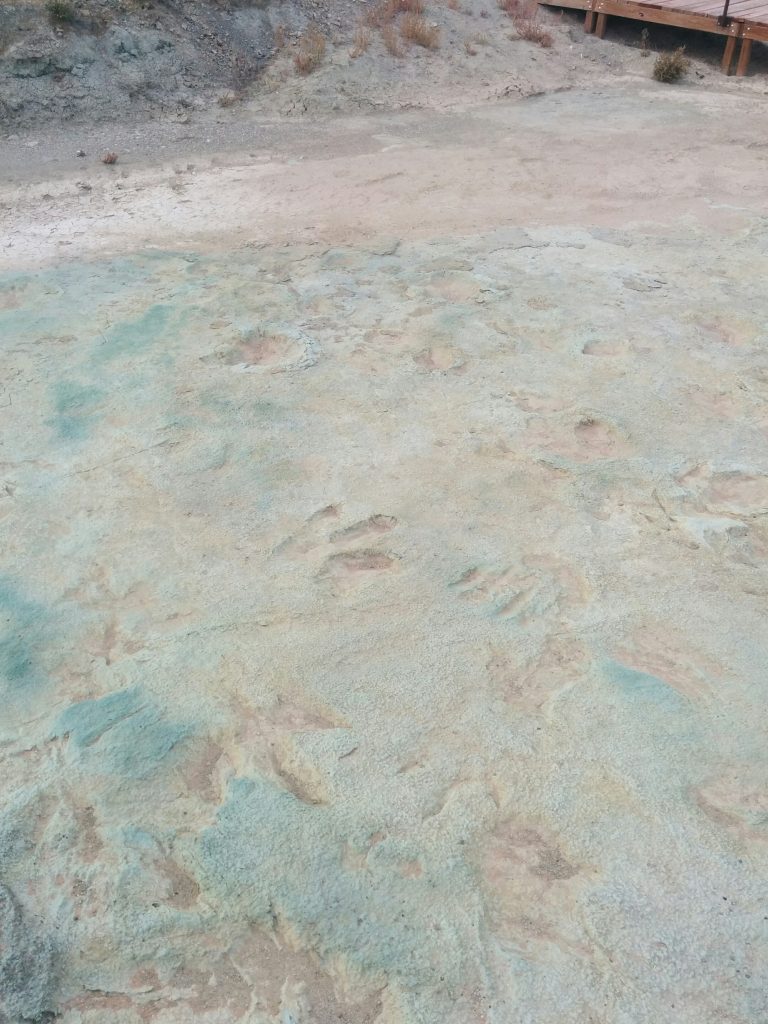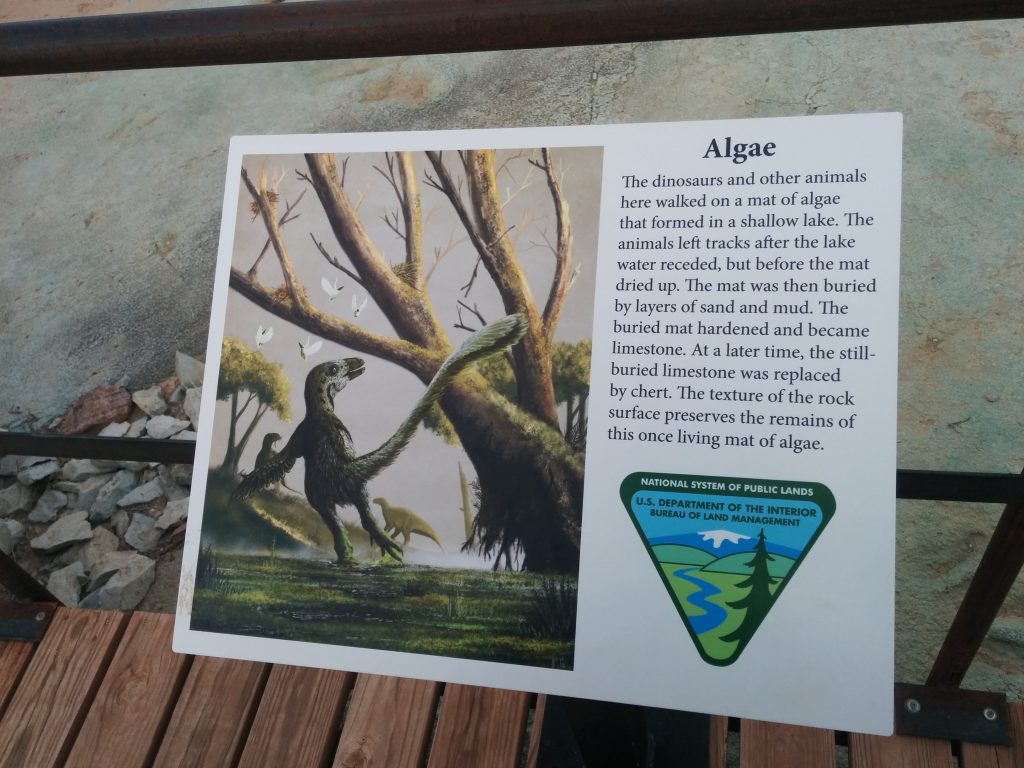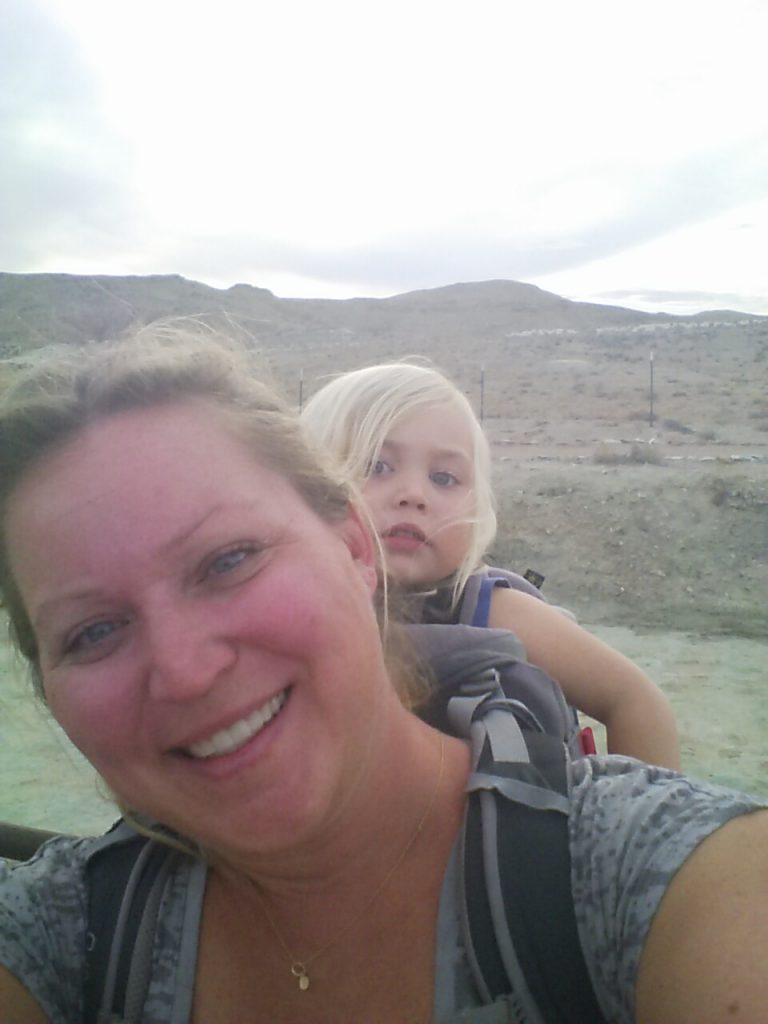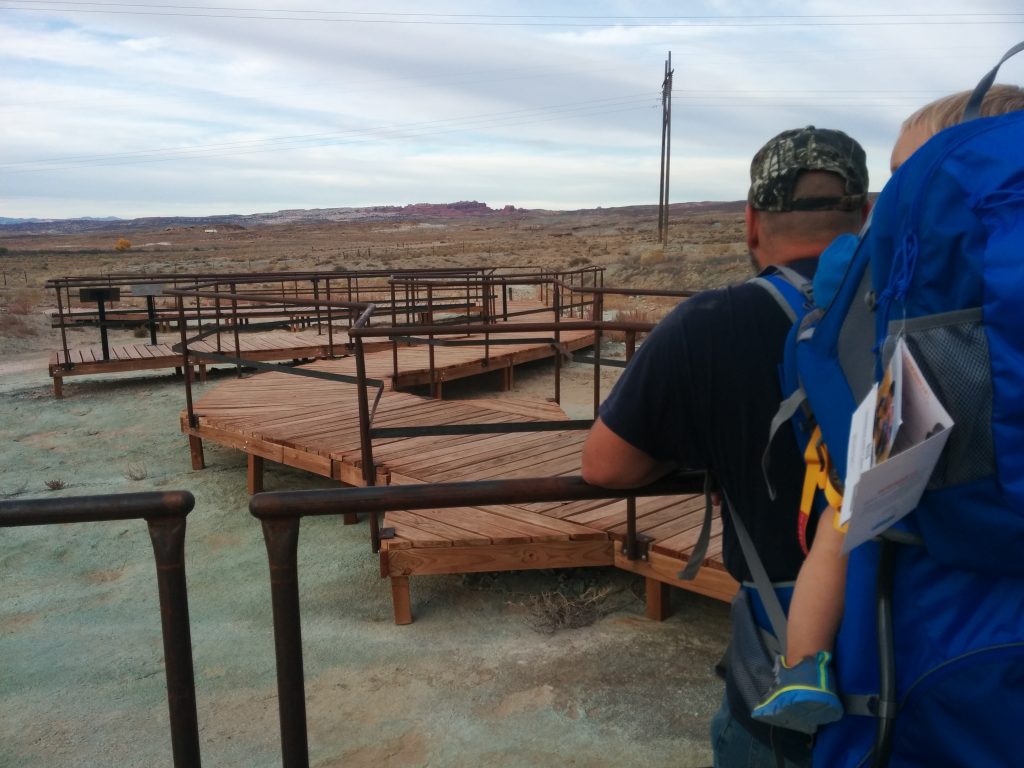 .