After leaving Goblin State Park the plan was to get to Capitol Reef, find a boondocking site and spend a day or 2 exploring.  It's a short 1 hour drive (2 in the Chief).  The park is home to some unique features: petroglyphs, a rare natural land bridge and an orchard planted by early Mormon settlers that you can pick when it's in season (hellllllllo fresh apples).  There's also something called the Goosenecks – several bends in a canyon that literally look like Christmas ribbon candy.  I didn't get to see it, but I'll get to that.
When we arrived we went straight to the visitors center.  This is standard operating procedure for us.  It's a Traci-must.  Scott would skip it altogether (classic bubble thinker… he just wants to get to seeing stuff).  The visitor center gives you context though.  It explains what you're going to see and why it's unique.  They always have an interesting bit of science but not too much so that's overwhelming.  I love them.  I also like to talk to the rangers to figure out where we should take the kids.  (The word you're looking for is "methodical" not "anal retentive").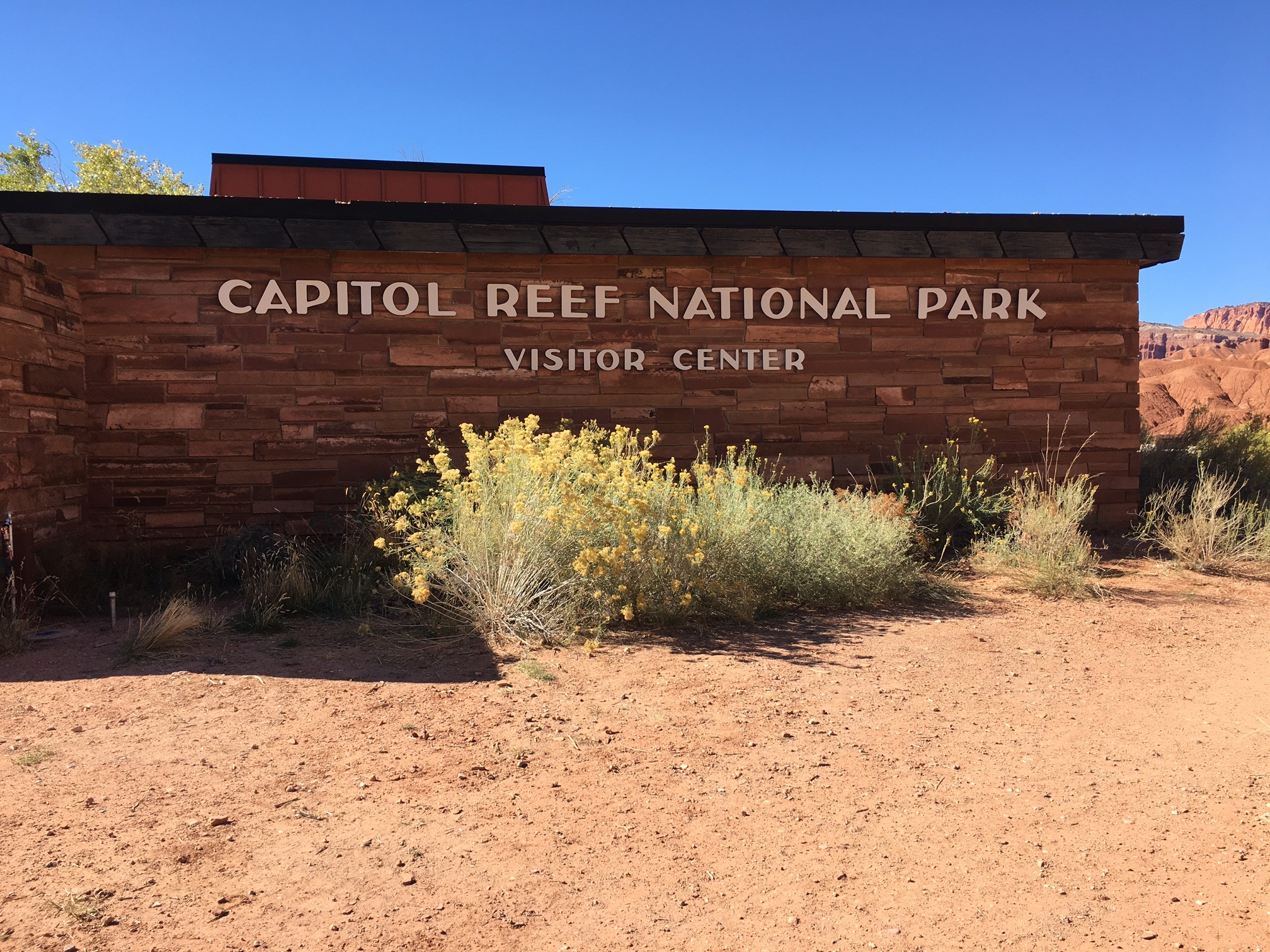 Unfortunately there is zero-to-very-poor cellular coverage in the park.  We thought once we drove through and reached the town on the other side things would look up.  Poor assumption (you know what assume always makes… an ass of u and me).  On the bright side, we've found another candidate for balloon internet, Facebook.  Southern Utah needs you.  Since Scott still had plenty of work to do we opted to keep driving until the signal improved.  We drove 3 more hours. I'm not kidding.  We had to spend the night in a Walmart parking lot (no disrespect intended Wally World… it was only a bummer because we had planned on staying outside a national park is all).
Since we were well past the point of no return for Capitol Reef, we continued on to our bed-down location between Bryce and Zion the next day.  It's not a glamorous campground but the place has focused on the right areas – the bathrooms are nice and tidy, the sites are level, there are commercial grade washers and driers and it's $15 a night. Sold.
To give Scott an undiluted full 8 hours of quiet time, the next day the kids and I struck out for Capitol Reef again using a shortcut.  We got there but 2.5 hours is in no way short with 2 little people in the back who were tired of driving at the 20 minute mark.  We tried to see the Goosenecks (the first possible turnoff inside park).  Fun idea, horrible execution.  It's not really easy to manage 2 independent little people on your own.  Now throw in an 800 ft vertical cliff.  While there were plenty of rocks to be scrambling around on at the lip of the canyon, is that really something you want to be doing when you have 2 busy bodies?  I stood on the outcropping "overlook" for maybe 10 seconds – Jack on my hip with my left arm dug into his waist so tight he couldn't move and Evie's wrist in my hand so tight she complained that it hurt.  Great.  I saw nothing.  Forget even thinking about the camera.  We moved to about 30 ft from the edge, I gave them a "play zone" and a sat down to enforce it.  They were happier playing on the rocks than seeing anything so we missed the entire national park.  Two strikes and I'm calling uncle.  It's a pass on Capitol Reef for now.  Maybe we'll catch it in the future.
For the record, this is what we were supposed to see.  It looks pretty in pictures.