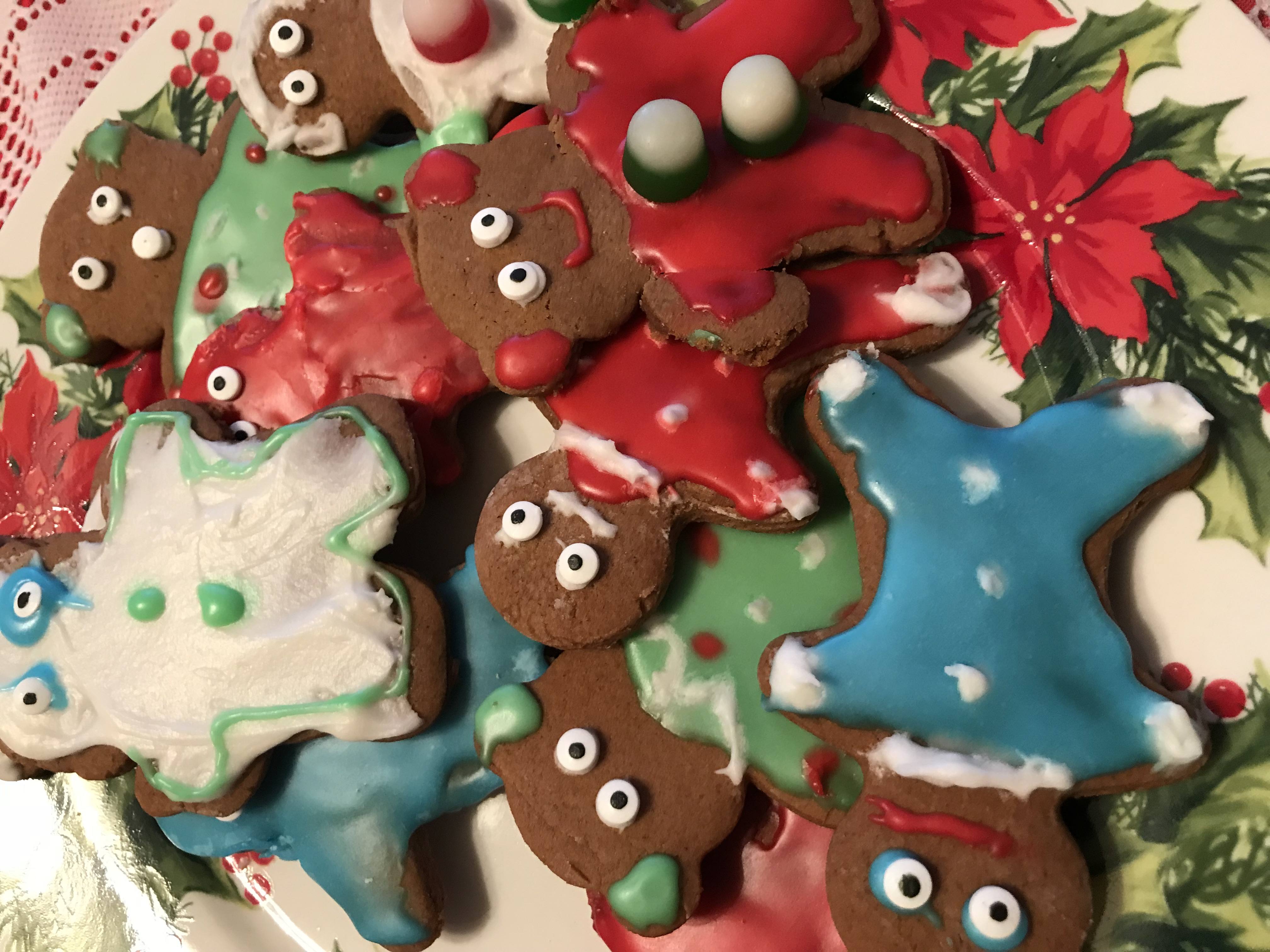 The 2017 Amators Holidays
Evie, "Does George really have to go?"  Me to Evie, "Honey, we've talked about this.  Yes.  George was a wonderful Christmas tree. We're grateful for his service and hope he {and his surprise nest of little spiders} enjoyed the novelty of living indoors. Now he's a kindling and a fire hazard.  It's time for him to move to the Christmas tree graveyard."
Is that weird we call it that?!  I really hope the kids turn out normal.
Evie was worried about what would happen to our tree, George, since we cut him down.  Clearly, he's not going back to his farm.  We showed her where Christmas Trees Past went on to have successful second lives as homes for woodland creatures and eventually nutrients in the soil.  Some of them still have a little tinsel on them.  We can see them from the back deck.  That seemed to satisfy her concern.
We had a fun, busy holiday season that kept us on our toes but wasn't so much that we didn't enjoy ourselves.  Each week of December had something special about it.
The first week, Grandmom, Evie and I went the Nutcracker in Portland, Maine.  This was Evie's second year.  She didn't fall asleep this time!  Like her Grandad, she has a tendency to talk through the entire show.  Unlike her Grandad, she wasn't bothered by the confusing storyline.  Since she was able to accommodate the lack of realism, unlike her Grandad she was not fired from attending all future productions with me and Grandmom.  Jack will be invited next year.
The next week we took a trip on the Polar Express out of North Conway, NH.  Cousin Leo took Nate's ticket because Nate had his first basketball game of the season.  Next time we'll take the earlier train.  It was a magical ride all the way to the North Pole.  We were greeted by elves.  Perceptive Evie was disappointed that they looked so much like humans, but she was courteous enough not to mention it to them directly.  Santa spent time with every kid so we were there for what seemed like a full year.  But you can't beat the ultimate combo of trains and Christmas.  It was a special evening.
The following week we got everything done – full Christmas morning prep was complete by 14 Dec.  Then we drove deep into the Maine woods, moose country, to enjoy a ski week with close friends.  There were big dinners, warm fires, an epic snow fort and Evie and one of her all-time favorite people, Max, learned to ski.  The best part was getting to be with friends as they experienced real northern cold for the very first time.
Rolling into Christmas, the kids got to have all 3 of their surviving grandparents together for a very special Christmas Eve, Christmas Day 1 and Christmas Day 2.  Nate was slightly delayed by… what else… *shocker* a snowstorm.  But that just kept the fun going extra long.
Now it's well below zero, everything is cleaned up and George is happily in his new home, specially selected for proximity to a cluster of trees that may or may not be home to some very lucky woodland creatures and a little stream (though, let's be clear, George is no longer drinking).  We're ready to get back to our new normal.  It's such a great feeling to look forward to getting back to our "normal"… not just endure it but really, deeply enjoy it.  Merry Christmas, Happy Holidays and lots of love.
---
The Nutcracker:
Making Christmas presents:
Writing letters to Santa in LL Bean's warming hut:
Prepping for the Polar Express:
Cousin Leo:
Cookie making machines:
Ski school:
Meanwhile, inside the lodge:
Scott's mobile office for the day:
After ski school:
Heading into Christmas Eve:
Final picture… every year my family does a Yankee swap on Christmas Eve.  For 2 decades we've had a booby prize show up every year without fail.  Whoever opens the bra, has to put it on.  It never gets old.  I laugh until I cry.  Way to be a good sport, Kim!