We were grooving to some sweet John Denver this morning at breakfast (after Scott tried to start with Metallica – no, pass, veto'ed).  We're enjoying the woods of West Virginia.  We're in Coopers Rock State Park outside of Morgantown.  Scott spent a little time here awhile back and on a happy coincidence I randomly picked it as our layover on our way to O-Hi-O.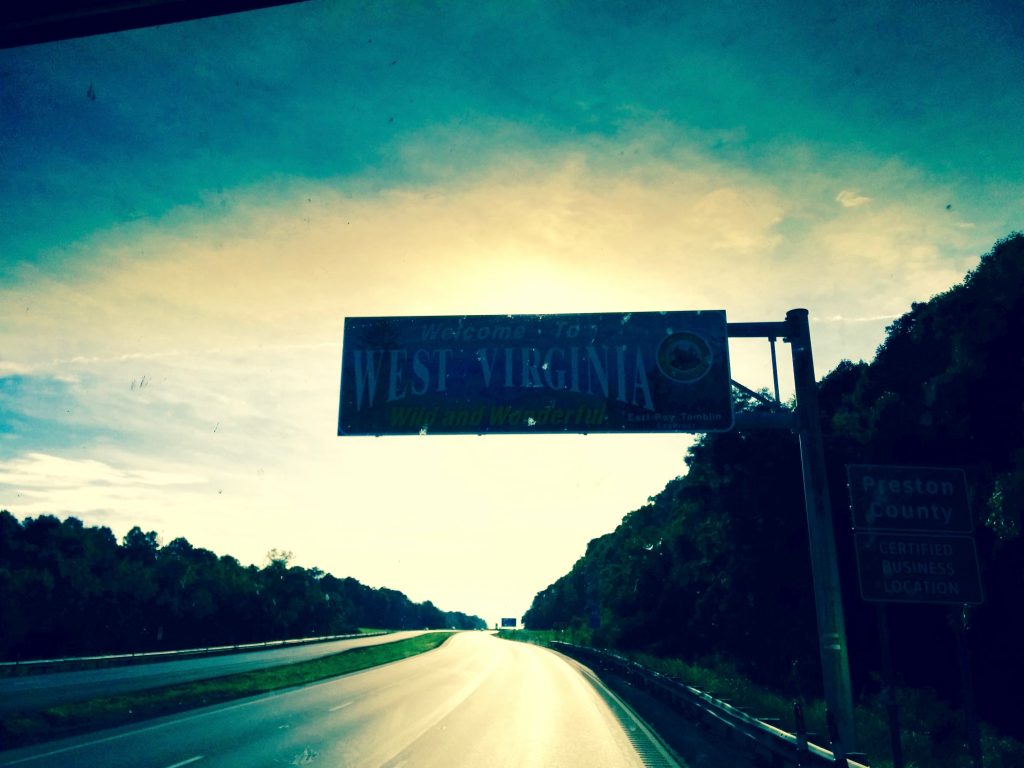 It would be generous to say I've been lukewarm on West Virginia in the past.  It's unfortunate that I hear Dueling Banjos and think of squealing pigs whenever it comes up.  I really think Burt & Co. might owe the state damages for pain and suffering since that movie is well over 30 years old and its legacy is still going strong.  From now on, I'll be remembering waves of dramatic ridges, healthy green forest for as far as the eye can see and a little orange salamander that nearly gave his life at the hands of my kids (but he lived to see another day).
We are in the middle of a research forest associated with the University of West Virginia.  We arrived at 18:45 last night – 15 minutes shy of the welcome desk closing and we set up in record time.  Scott and I are getting the hang of it and we were extra motivated by darkness and bedtimes.
Our routine is quickly getting professional.  We unhook the Grey Man and I park it while Scott moves the dolly.  Scott parks the RV and we decide what needs to be leveled.  I do the little driving needed to get us on blocks while he does the directing and block positioning.  He sets up the electricity and water, awning and gets the bikes down.  Meanwhile, I set up the inside.  We both unpack the car with all of our outside stuff.  All told, it takes us maybe 30 minutes start to finish. Not bad for 2 new RVers.  Even the kids have jobs – get out the outside bag of toys, lay the outside kid rug, check out the campsite for any extra sticks they can put in the fire pit.
This is a good news update (finally).  As of right now, the RV runs, nothing important has fallen off recently and we're not a biohazard.  That's… not always the case… so it's appropriate to do a little happy dance to give thanks to the RV gods.  The generator is still stuttering after it gets started.  We need to call Papa Gee and Ed to see if we can troubleshoot it further.  The solar panels give us about 3 hours of power at night.  With 4 deep cycle batteries we should be getting more out of it, so we need to troubleshoot that (just not really sure where to start to be honest).  We're going to make it to Cincinnati in time to see Team Priest before they haul out, so that's a big bonus AND we're hoping to get a lunch in with Kate (for DC friends, you know her as "Lorna's Kate, The Pilot") and family in Columbus.
Today is a play/rest/eat/play repeat day.  Scott is working from the RV.  It's a little wet outside, but nothing that would keep us inside. We're making grilled pizza this evening.
Another update I'm proud to share – Scott says he sees me finally "relaxing".  I'm really trying to get into the hippy spirit of "whatever happens, let's go with it".  The kids are getting used to me being around a lot more.  I think the change from loving Yannet who knew how to cook everything, understood the daily schedule and never got frustrated to wild Momma who tends to be more…. capricious (which is just about the nicest way I can put it), is learning to cook and occasionally get very frustrated gave them some whiplash.  We're settling in now.  We're all really tan because we're outside so much of the day (and trust me… I really am applying sun screen).  I love that part about living in an RV.
Evie often talks about missing Colombia and she names off her people:  Yannet, Max, Christy, Jason, Carmen, Dakota, Carolina, Sofia….  She also talks about missing Maine and she names off everyone there (you, Family… every single one of you) and Pink Camp.  But she also loves finding new playgrounds and making friends on this trip… so I think she's doing well.  Jack is easy – he's the first to wave hello and the last to wave goodbye.  His only major opinion is about driving for more than 4 hours… that's a non-starter.