Installing More Solar In My Ooutdoord RV
Project Prep
Parts Ordered
Installation
Results
Project Prep
Today I doubled my solar wattage to 340 watts. That felt like it was right up there with, "Today, I made fire." Maybe not quite, but it sure did feel good.
I'll admit that I don't understand everything solar but this was a relatively straightforward upgrade. We're running an Outdoors RV travel Trailer that comes from the factory with A Zamp 170 Watt solar panel, 2 12 volt batteries and a Zamp ZS-30A controller, and a Triple Port Roof Cap. My challenge was to find a new panel, mounts and wires to tie into the existing system.
What I read in the brochure was that my Triple Port Roof cap and Zamp zs-30 are both capable of handling 510 watts of solar input.

As I've never done this, I opted to go with one new panel to start. That turned into a very good decision once I learned that the Triple Port Roof cap on my particular travel trailer is only rated at 450 watts, so 2 additional 170 watt panels would have been too much.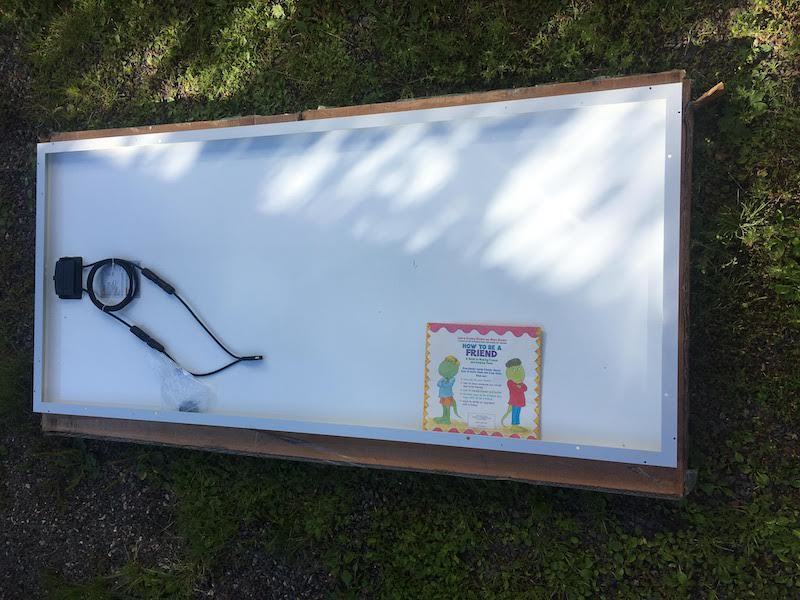 Parts Ordered
My initial idea was to just buy a Zamp Expansion Kit because that's the brand that is already on the TT. I quickly realized that the cost of the Zamp panel and kit was literally 4x the cost of a generic panel for the same output.
Maybe the quality is worth it? I don't know yet.
But I read up on quality class of panels from A-d and decided that, for this install, I would go with a lower cost option and see what happens. I'd love to hear opinions on why this was or was not a good decision if you've got experience to share. I knew I may not be getting a panel that was the highest quality against the Zamp, but for the price I'm willing to take the chance. I also replaced all 4 trailer tires the same week so had to make some financial trade offs.

Zamp Polarity is backwards from industry standard, so adding a non-Zamp to a Zamp system requires the Polarity reverser. This small item came with the Connector Adapter.

I purchased a RichSolar 170Watt panel, a Solar Panel MC4 to SAE Connectors Adapter , mounting brackets, and a tube of Dicor Lap Sealent.

Installation

I was boondocking in a friend's driveway so I even had an extra set of hands and his years of RV experience. I mounted the brackets in the same location on the panel as the factory brackets and panels. Taping up all the connections, including adding the polarity reverser, we got the panel up to the roof and mirrored the position of the factory installed system.
Before gluing and screwing, we connected the panel to make sure it was working. Amp input doubled immediately (Big win!).

Next I globed a bunch (too much?) Dicor under each footing and screwed the mounts to the roof. Then I covered the tightened bolts with more Dicor.
I reconnected the wired to the Zamp Triple Roof Cap.
Finally, I used zipties and Flex Seal tape to lock the cable to the roof.

Install was complete in about an hour and a half. Someone that knows what they are doing could have done it in about 10 minutes. It works, so Im happy.

Results

As I mentioned the output of the system doubled. Thats not a surprise as we doubled the panel watts. I'm not sure how the generic panel compares to the Zamp. For now it looks like it works as well or acceptably as well.
The panels are in imperfect positions on the roof. They aren't center line and they aren't completely flush with the roof because it is rounded. But that's ok. It works. The only outstanding concern I have to dig into is the gauge of wire from the panels into the panel interface. I've read in some of the forums that the gauge is technically large enough to support the power but a bigger gauge would be better. If I start looking at adding more panels, I'll dig deeper into the wiring and connections. That's or another day.