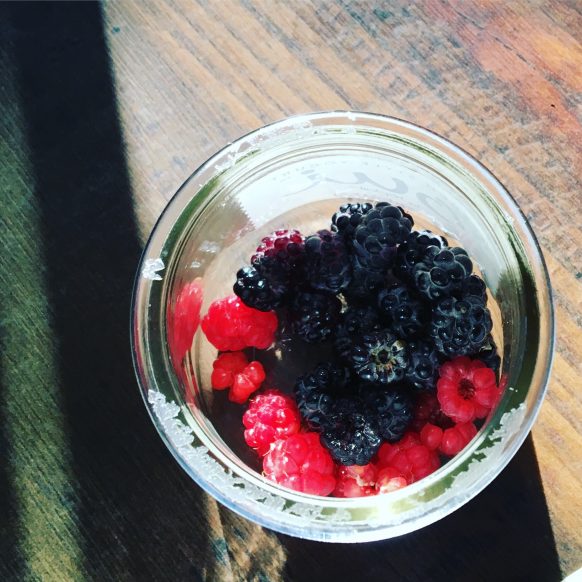 Finger Lakes National Forest
Scott, "How does that look?" Me, "Terrible." He pulled forward a bit and then backed up into exactly the same spot. Him, "How about now?" Me, "Still terrible." He tried again and ended up in the same place. "How about now?" Me {in a bored voice}, "Still terrible."
After about 15 minutes of that playing over and over, Scott finally lost his impossible-to-crack cool.  I'm not gonna lie, that made me giggle a little bit.  Oddly, that didn't help the situation.
It turns out class As are a fairly different beast than travel trailers.  That whole pivot-point-thing really mucks things up.  There was plenty to not love about the Chief but one of the great things about it was that the butt end and the front end were always in a line… always (except maybe that one time when things went sideways in that canyon in California).  Not so for the travel trailer.  We're still learning.
Despite the aggravation getting into a spot in Blueberry Patch Campground in Finger Lakes National Forest, we figured it out in a way that worked for us. We left.
We found a spot about a mile down the road at a horse camp.
A horse campground is a first for us.  We'd never stayed at one before.  Every single site had a hitching post.  Apart from that, not too much else was different.  The sites were big and clean and smelled faintly of horse barns.  We stayed 2 nights.  The only bummer was that there were no campers with actual horses while we were there.  That would have been fun.
The kids are getting into the rhythm of living on the road again.  Evie remembers the Chief but only vaguely.  Jack doesn't remember it at all.  We're spending a lot more time outside again, which is one of the major reasons we love the lifestyle.  They picked wild raspberries and muddled them up to put in fresh lemonade.  They took out a tree book and tried to identify several trees at the site.  Evie has picked up the chore of making sure Boston gets his walks every day.  Life is simple again.