The 1 Key To Experiencing Any New Place
DISCLAIMER: I may make a commission off of some of the links on this page.
I'll never forget the first time I got out of the taxi in the Bukit Bintang district of Kuala Lumpur. It was nighttime but bright as day.  Signs everywhere lit up the sky blinking advertisements for everything from luxury hotels to $2 foot massages.  The smell was delicious – equal parts home cooked street food and night-blooming jasmine.  That shouldn't smell good together, but it does.  The air felt hot and sticky and my hair curled.  Loud Malaysians and foreigners were spilling out of cafes onto the sidewalks.  It was everything "exotic" is supposed to mean.
That hooked me for life.  I'll always find ways to travel.
But it's not always easy.  Exploring a new place can be endlessly confusing and costly.  It turns out, traveling is both an art and a science.
Here's how I do it.  Start with figuring out this one key and everything else will fall into place: Mobility
Having a proper mobility will enable a traveller access all the interesting areas or locations in the city.  
How are you going to get around?  To a new restaurant? To the famous museum across town?  From the airport to the hotel?  This part is critical to the overall experience.
In order of most intrepid to most basic, here's how Scott and I look at it:
Rental Car:

Most countries have car rental agencies.  Depending on the place, you might consider renting a car for a few hours or a few days.  We rented a scooter for an afternoon in Alacati, Turkey in between kite surfing lessons.  That got us out of the town and into the hills for some insane views of the Mediterranean.  In Peru we took the path less traveled and rented a car for our 4 days in Cuzco and the Sacred Valley.  That was so unusual people at the airport didn't know where the rental car agency was located (a 10 minute taxi ride to the other side of town).  
This option is by far to see a new place on your own terms.  Like any 16-year-old will tell you, a car is a ticket to freedom.  But the advantages come with responsibility.  You have to be comfortable driving outside the U.S.  (which generally isn't hard, most of the rules are the same).  An international driver's license is a very helpful tool.  You also have to deal with parking.
Scott prefers Enterprise Rental Car because "they treat you like a professional" (his words, not mine).  They got sideways with me when the first guy didn't note some dings and the returning girl accused me of hitting something.  A review of their internal documents indicated that someone 2 customers prior had done the damage.  You don't forget that sort of thing.  I've been a Hertz girl ever since.  We also use Holiday Auto (mostly when we're in Europe) and Hipmunk.com to compare prices across providers (I use if more for flights – I like the way the results are presented).
Zip Car:  Think of this as a rental car-lite.  A Zip Car is a car-sharing service.  You can rent the car when you need it and you don't have to pay for it when you're not using it.  This is particularly popular in major cities in the US and the UK.  You will want to sign up in advance if you know this service exists where you're headed to avoid technical glitches that could spoil the fun.
Heads up, we haven't tried this but my sister-in-law loved it in San Francisco.  The places we tend to go lately (South America, rural USA) don't have enough people to support something like this.  It's also hard with 2 kids: car seats, toys, messes.
Most taxi drivers know the nooks and crannies of the city and will be able to suggest both tourist traps and the local scene. It's a convenient option and since you're only paying for the time you're in the car, generally economical (except maybe in NYC and WDC).  Added benefit – you can have a carefree beer or 2 or more.
However, you should always have your own map and a general idea of where you're going and how to get there.  Since someone else is at the wheel, there is an assumed element of risk.  Use your personal security tools (I went into more detail here) to make sure you're as safe as you can be.
Public Transit

: When I set out to explore Copenhagen, Denmark I used the metro.  It was intimidating but reasonably straightforward.  My obvious foreigner status also sparked some great conversations with helpful locals who put me on the right path.  I never would have had those conversations if I hadn't been willing to give it a try.  
I love metros.  I don't love buses.  I don't know why.  That's just my quirk.  But in terms of budget, both are a solid bet.  
Again with the personal security – look people in the eye, be confident, have money stashed in different areas on your person in case you are the victim of a pickpocket (you want to make sure you can get back to the hotel).
Rent a bike:

Renting a bike will help you explore a city to the fullest.  I did this in Portland, OR.  I was a single female traveling alone and I wanted to get to know the city.  I didn't want to see it pass by from a window.  So I rented a bike for a few days, asked the hotel where I could store it when I wasn't using it and was able to spend more time in the parks than if I had taxi'ed around town or rented a car.
Admittedly this is harder with kids.  But little people may not be a showstopper.  Check with the bike rental company in advance to see what they can work out.  Scott and I are currently traveling with our bikes and they are the single best tool we have to go out exploring locally.
I haven't personally tried this service, but I have a couple of great friends in NYC that love it.  If you're in the area, you might want to check if out: Central Park Bike.  When I told them I was writing something about exploring new places, they strongly advocated that I include bikes and specifically this company.
Boat: If you're near water, try to get on a boat.  Boston has a little-known water taxi from the Hyatt near the airport into downtown.  It's a great way to get an interesting, different perspective on the city (and, depending on where you're going in the city, it can be cheaper than a traditional taxi).  
I also like Duck Tours.  I know that's a U.S.-based company right now, but it's a great tour of the city from both the streets and the water.  Since my kids are little, the duck part goes a long way to keeping them entertained as well.  My extended family and I try to go on this together once every couple of years.
Boats depend entirely on the city.  In Istanbul they were a part of every day life.  The ferries were as good as (or better than) the sightseeing cruises.  If you're going someplace new and you're not sure, go to Google.  That's where I usually start.
Walking

: Get a great pair of shoes.  Forget style.  Forget complimenting your outfit.  Forget making a target of yourself by looking like a goofy tourist.  Go for comfort and durability.  No matter what you use for transportation you will always have to walk some.  In fact, the more the better.  Walk in the morning.  Walk in the afternoon.  Walk in the evening.  Know where you're going and walk with a purpose.  Get out there and be a part of the place you're exploring.  
Scott is a shoe guy.  When I met him he had a pair of shoes for every activity.  I've successfully killed that… to the point where I asked him for his favorite walking shoes and he said "cheap Nikes".  Ok, there you have it.  Cheap Nikes.  I normally wear my North Face hiking boots.  Again, I chose to leave style at the door in favor of bona fide adventure.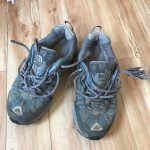 Ultimately, experiencing a new place is an important part of traveling. It involves getting to know the cultural heritage of the  people, exploring their food choice and finding their quirks that will make your experience worthwhile.  However you chose to do it, make the most of it.
Final thought: Whenever you are in a new town/city/place explore it on your own terms so that, at the very least, you'll return with a tale to tell.
Pin It!