About Us
We are Team Amators – a family of 4 + 1 + 1 and a little dog.  We're traveling to interesting places, experiencing new things, learning as we go and taking time to appreciate life.
The Core Four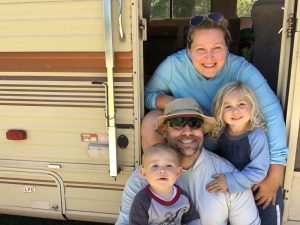 Scott  A Special Operations veteran, he completed his MBA from Thunderbird University in Switzerland.  Brains and brawn = hot (says his wife)! He now owns a performance marketing company.  He enjoys working out, reading and off-roading.
Traci has an undergrad in physics and a masters in electrical engineering (but won't rewire outlets). Best compliment received (said with sincerity): "Wow.  You don't seem 'smart'.  You're really easy to talk to."  She enjoys laughing, the outdoors and family and friends.
Evie is almost 6.  She is an old soul and is every bit as much a teacher as she is a student.  She is homeschooled.  She meditates, sings, dances, invents and teaches her little brother.
Jack is almost 4.  He's all boy – for all the good and bad that comes with that.  He loves motors and speed and danger. He also still wears his sister's Elsa dress when he wants to feel "pretty".
The Plus Ones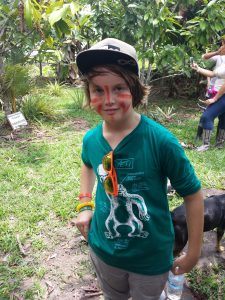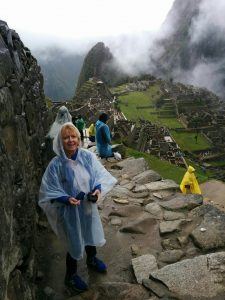 Nate, Evelyn and Jack's older half-brother, joins us during vacations and whenever we can successfully jailbreak him from school.  Nate is a legend to Evie and Jack.  It's sort of like having Elvis or Santa Clause with us when he's around.  He's the coolest.
Grandmom never ever never wanted to leave the U.S.  She didn't want a passport.  For reasons that are neither logical nor accurate, she was afraid "she couldn't get back in".  That all changed when her grandkids were taken out of the country.  Now she gets homesick for Colombia.
Boston is our sweet little Maltese.  Conveniently he "fits underneath the seat in front of us" and usually with us, no matter where we are.
PAST
As luck would have it, love blindsided us in Iraq.  "Of all the gin joints, in all the towns, in all the world…".  It was neither convenient nor appropriate.
We were married outside of Acadia National Park in 2009.  Originally from New England, we moved to Istanbul, Turkey in 2010 and lived there for 3 interesting years.  It was every bit as exotic, intoxicating and sometimes infuriating as you might suspect.  Evie joined The Team during this time.
We came home to the U.S. for a year before striking out for Bogota, Colombia.  I know you're going to ask so, yes we felt reasonably safe.  We understand the impression people have of Colombia after the 80s, but it's different now and so… juicy.  Someday you'll talk about going to Colombia like people now casually mention vacations in Costa Rica and Belize.  If you get the chance to go, go.  Colombia is full of color, warmth and life.  The people become family.  Jack joined The Team during this time.
Between Scott and I, we have traveled to 30+ countries.  We've savored time in the shadows of some of the standard bucket list sites (the Giza pyramids, Machu Picchu, the Amazon River, Ephesus, Big Ben, the Petronas Towers, the Great Wall of China, a fort built by Alexander the Great) but we have plenty left to do.  We are learning to adopt a travel style forged by 2 independent adults to a family of 4.  It's a brave new world.
Then we bought an ugly '85 Winnebago Chieftain for $9500 that ran like a beast (most of the time ).  We nicknamed it The Chief.  On the maiden voyage from CA to ME, Scott was stopped by the cops in TN and the drug dogs alerted.  That's how we came to meet Roscoe.  I called the local sheriff (once Scott got home) and asked that they confirm that there were no drugs on board.  We RV'ed around the U.S. for a year.  There was no plan, there were no goals.  We enjoyed each other and the simple life.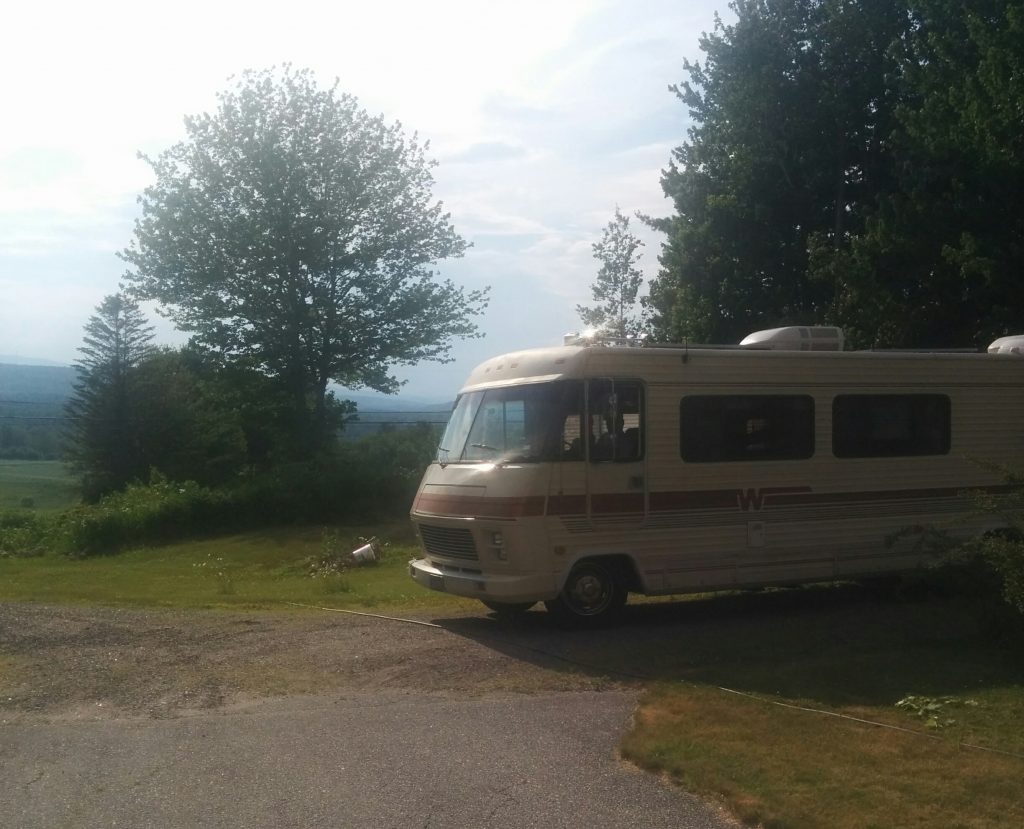 PRESENT
In the past year, we spent a month in Thailand and 2 months in Barbados.  In between, we've been hanging our hat all around the US; mostly back in New England to reconnect with family.  We've considered a full move overseas again, but we haven't settled on which place yet.  We really enjoy the short 2-3 months stays, but that's expensive.  In the meantime, we've decided to outfit a 15-passenger van and a little tow behind and explore our backyard a bit more (read: Canada and Mexico, to start).  Then we'll see where that takes us.
See the 3 Biggest Things We Wish We Knew Before Starting Fulltime RVing!